STUNNING HANDMADE HUMIDOR CIGAR BOX BY CHARLES TEDDER OF HIGH POINT, NC
$635.00
... people are viewing this right now
Compare
---
STUNNINGLY CUSTOM HANDMADE WOODEN HUMIDOR/CIGAR BOX BY CHARLES TEDDER OF HIGH POINT, NC. EXTERIOR MEASUREMENTS ARE 14″ LONG X 10 1/2″ WIDE X 5″ HIGH. THE FORMER OWNER'S NAME IS EMBOSSED INTO THE INSIDE OF THE WOODEN LID, BUT COULD EITHER BE SANDED OUT OR COVERED WITH A THINK BLOCK OF WOOD WITH THE NEW OWNERS NAME. NOTE SLATS IN THE TOP TRAY TO ALLOW THE MOISTURE TO PERMEATE BOTH LAYERS OF STORED CIGARS. LID HAS THREE HINGES TO PROVIDE STRENGTH. I DON'T KNOW THE MAIN WOOD (IT COULD BE MAPLE), BUT THE ACCENT PIECES ARE EBONY AND HOLLY (WHITE).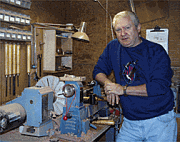 Charles is a fourth generation wood-worker. "From the time I can remember, I was handing my father his tools". He spent most of his adult life working for Hatteras Yachts. For most of those years he was manager of Quality Assurance. "I maintained a wood-working shop as a hobby and to relax myself after wearing a tie for eight hours".
In the early 90's, after twenty five years with Hatteras Yachts, Charles went into business for himself and chose to start an antique furniture repair business. Buying high-end antiques, repairing them when needed and reselling.
"About five years ago I made my first humidor for a friend. He ordered six more and by word of mouth I was swamped with requests for custom, one-of-a-kind humidors". Charles says he has made over three hundred humidors with no two ever the same. "I sign and date each one and never make another one exactly like it". I work with over thirty different types of domestic and exotic hardwoods. I don't use any wood that is on the endangered list".
"I have always lived in North Carolina and love this state. I am a one man shop and everything is built and finished by me. I have complete control of the quality of my products".
"I am very pleased to be able to create these for Hatteras owners and other members of the Hatteras community".
Charles Tedder
Thomasville, North Carolina
PAYPAL ONLY. USPS SHIPPING TO THE LOWER 48 STATES ONLY. INTERNATIONAL ORDERS USE GLOBAL SHIPPING PROGRAM.